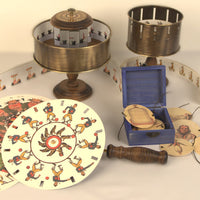 Ancient Magic Toys
We sell the finest optical toy replicas imported from around the world. These are the magical toys that created the first moving pictures and led to modern movies. Quality built with materials like solid wood and real brass, these toys are beautiful and mesmerizing.
Sophisticated toys, gorgeous conversation pieces, or for hands on demonstrations that recreate the magic of the past.
Experience the magic and take home something ancient Today!
SHOP NOW